Desperate jobseekers in Nigeria's saturated labour market have resorted to raising funds amounting to millions of naira by all means to secure placements in agencies of the Federal Government especially those considered "juicy", after stressing their patience to the limits.
A close-knitted syndicate coordinated by a Kano State-based company allegedly anchors the jobs for sale in connivance with some unnamed top officials of Federal Government agencies at prices ranging from N3.5million to N5million or more, depending on the agency and Grade Level, Scudnews investigation revealed.
The Nigeria National Petroleum Corporation, NNPC, Federal Inland Revenue Service, FIRS, Asset Management Corporation of Nigeria, AMCON, Nigeria Deposit Insurance Corporation, NDIC and the Nigerian Communications Commission, NCC, are top on the list of agencies where job slots are offered for sale by the syndicate to the highest bidder.
Others included the Department of Petroleum Resources, DPR, now renamed Nigerian Upstream Regulatory Commission, NURC and the defunct Petroleum Equalisation Fund, PEF.
Scudnews investigations further revealed that based on availability of slots at the agencies, Usman Garba, a lanky young man resident at the Gwarimpa District of Abuja, the nation's capital, discreetly scouts for university graduates in dire need and willing to pay the fee for "lucrative" Federal Civil Service jobs usually tagged replacements, and thereafter contacts an alleged boss he identified as Abubakar Shehu Baba, who he claimed to be the Chief Executive Officer of the Kano-based company, A.S Baba Global Inter Trade Limited, to seal the deal.
It could not be ascertained if the company has an office in Abuja, but it has No. 17/18 Fagge Ta Kudu Kwan Market, Kano State, as its operational address.
Scudnews went in search of Usman following a hint on the syndicate's activities and the effort eventually paid off at about 11.am on Wednesday, November 17, 2021, when he scheduled a meeting with our undercover reporter who had posed as a jobseeker desperately in need of gainful employment.
Clad in white, flowing attire, he welcomed the reporter with a disarming smile which seemed his trademark into an apartment on the top floor of a one storey block of flats in a cream painted mini estate directly behind Drumstick, an eatery in Gwarimpa, Abuja. Marked EN 99, the mini estate is located on an earth road linking Cherryfield Nursery & Primary School, a few metres away from Drumstick, off 1st Avenue.
Usman had wanted the meeting in an apartment, but the reporter tactfully declined, suggesting instead, that a seat within the premises close to the gatehouse would suffice. And then, began a multi-million naira bargain for a replacement job, a vacancy he said was available at the Nigerian Communications Commission, NCC.
An agreement was eventually reached and the reporter was asked to pay a whooping sum of N5million for a Grade Level 12 slot or N3.5million for a Grade Level 9 job, with an assurance that the employment letter would be ready within a period sixty days.
Scudnews undercover reporter however settled for the Grade Level 9 slot and was requested to pay a deposit of N1.5million from the total amount of N3.5million after making an intense plea. He was to pay the balance of N2million on receipt of the letter of employment.
To further assure the reporter that it was a genuine deal, Usman said the company as part of the procedure, usually signed a Memorandum of Understanding, MoU, with its clients in which the terms of agreement are explicitly stated. He said a MoU would be signed with the reporter upon payment of the initial deposit of N1.5million for the NCC job slot.
Interestingly, Usman agreed and indeed, gave our reporter a specimen copy of the MoU when our reporter further pleaded to avail him a copy as proof to enable him raise the funds to effect payment on the next day.
Earlier, Scudnews had in the course of its investigation, obtained a list of jobseekers shortlisted by the syndicate for replacement jobs said to be available in some agencies. However, it could not be ascertained whether the deals had sailed through or not.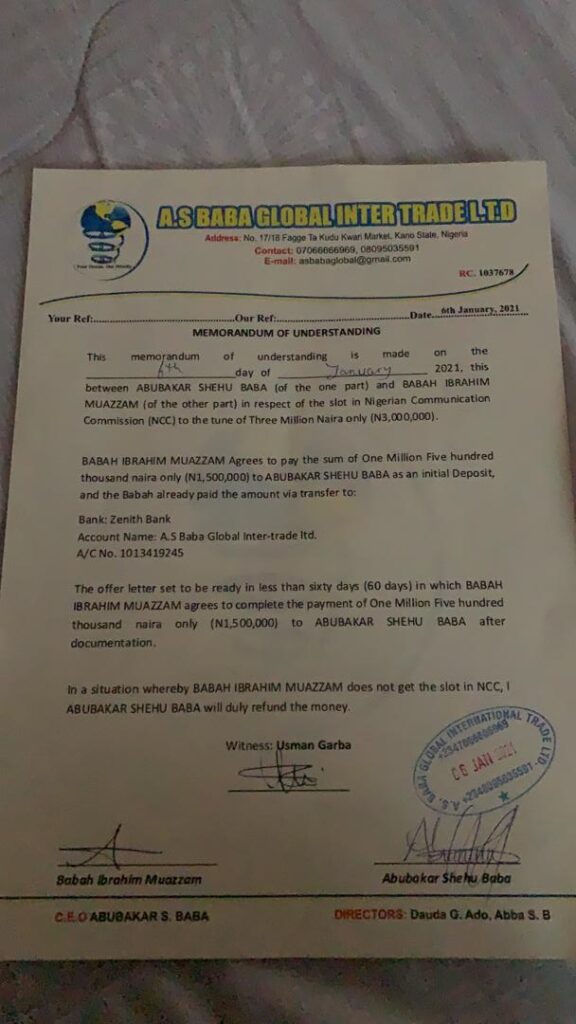 While our reporter's encounter with Usman lasted, he inadvertently gave an insight into the modus operandi of the employment racket. Excerpts of the conversation:
Usman: So na today we see. This place (the apartment); this is where I come to rest sometime. This is my second House, the other one is my family house. Seriously, I have calls this morning; one guy has been disturbing me to send him the account number, but I said he should wait. This time around, we have one slot for replacement at NCC and two at NDIC.
Scudnews: This replacement, how do they do it, is it that the people being replaced have left their jobs?
Usman: Yes, they've left. I had a brother in Nigeria Customs, when he got his three stars (Deputy Superintendent); he had an opportunity somewhere, so he just left his seat and went away.
Scudnews: When the person leaves, will the person replacing him bear his name or how do they do it?
Usman: No, he will not bear his name. They will erase the documented details in the system and replace with the new employee's details. We also get fresh recruitments but that doesn't come often. We get replacements within an interval of two weeks, one or two months, but it has been long we had slots for replacement, up to about four months before we are having it now.
In this instance, I had already sold three slots in the past two days, a day before yesterday and yesterday. So I want you to conclude everything before tomorrow because my final date is tomorrow.
Scudnews: Are your Ogas working in the agencies?
Usman: We have a company and we write agreement with our clients. I will show you one of such agreements so you can read it. (Brings an agreement dated October, 2021). But you have to pay a deposit of about half the total amount before the agreement would be signed and a copy given to you.
Scudnews: If I pay the deposit today, how long will it take before I get the employment letter?
Usman: It will take, three weeks, one month; it depends, but certainly within 60 days.
Scudnews: We spoke about a Grade Level 12 slot at the NCC, how much will that cost.
Usman: I spoke with my boss yesterday about you; I told him you are interested in a Grade Level 12 slot at the NCC. My boss said he can leave it for you at N5million but the deposit will be N2.5million. For Grade Level 9, it is N3.5million. The agreement I just showed you, I sold a Level 9 slot at N4million.
Scudnews: We earlier discussed this Level 9 on phone and you said I should pay N3.5million, but I said I will pay N3milliom.
Usman: Ok, leave it at N3.5million.
Scudnews: But when we had the discussion last year, you agreed that I should pay N2.5million for FIRS, why the sudden change in price?
Usman. The thing changed within these months, from May, June, July, August 2021. FIRS is still N2.5million.
Scudnews: FIRS N2.5million, is it not better than NCC?
Usman: Do you prefer FIRS? FIRS and NCC, all have advantage and disadvantage. The advantage of FIRS, you can get two to three days off if you don't want to go to the office; but that NCC, you will be tied to the office, but you can make money. The one that is available right now is NCC and the deposit is N2million.
Scudnews: What I can struggle to make available today as deposit is N1.5million. Please accept that, there is no money.
Usman: No wahala, I will send you account number. So send me your CV, I will talk to my Oga about that N1.5million deposit but if you pay a deposit of N1.5million, on the day I give you your appointment letter, you will pay the balance of N2million.
Scudnews enquiries on the availability and legality of "replacement of personnel", was confirmed by a serving Director of Administration in the Federal Civil Service, who however described the sale of job slots as criminal.
The director who does not want to be named for obvious reasons, explained the circumstances surrounding a common practice in recent times at MDAs where personnel are discreetly recruited and often times, in bits.
"When there is vacancy in an MDA, a formal request is made to the Office of the Head of Service which may grant an approval or a waiver. Once approval is granted, the agency has the required authorization to embark on the recruitment. But in doing so, some agencies embark on discreet recruitment rather than making the process public due to the pressure it generates as a result of the high rate of unemployment in the country.
In doing so, if an agency has an approval to recruit 50 staff, it may do it bit by bit till the number approved is made up. There are also other instances where an agency might seek and obtain a special waiver from the HoS. This is what they usually call it replacements in most cases. The job is legal but the disturbing dimension which is criminal, is selling the job slots. That is brazen criminality".
Efforts by Scudnews to contact the management of A.S Baba Global Inter Trade Limited, the kano-based company allegedly coordinating the job replacement racket to seek its reaction on the development was unsuccessful as several calls put across telephone numbers on its letter-headed paper, 07066666969 and 08095035591 did not connect.
© 2021, Scud News. All rights reserved.