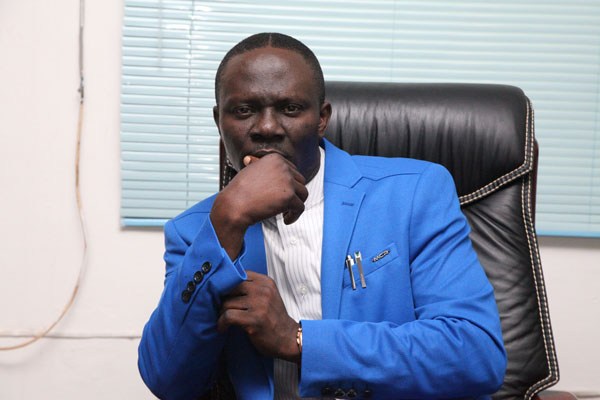 A former spokesperson of the Peoples Democratic Party (PDP), Prince Kassim Afegbua, is set to drag the national chairman of the party, Prince Uche Secondus to the Economic and Financial Crime Commission (EFCC) over alleged mismanagement of party funds.
Afegbua, who was also an Edo State Commissioner for Information, alleged that the Secondus-led National Working Committee (NWC), mismanaged about N10 billion of the party's funds.
According to him, the N10 billion was generated from the sales of nomination forms for party's aspirants between 2019 to 2021.
The New Diplomat's checks revealed that in the 2019 general election, the PDP charged N12 million(N2million for Expression of Interest Form and N10 million for Nomination form), for the Presidential aspirants.
Also, for the Governorship forms, the party charged N6 million, while N7 million and N2.5 million were charged for the National Assembly and the House of Representatives forms respectively.
Also, Afegbua disclosed that the party's bank accounts are not in operation, adding that the accounts are under a garnishee order.
A garnishee order is a court judgement obtained by a creditor when a debtor fails to pay his debt or come to agreement with the creditor on how the debt is going to be repaid.
Afegbua, who was speaking during an interview session with Channels Television, disclosed that he is in possession of documents to establish allegations that the Secondus-led NWC mismanaged the said funds.
He also vowed to take the matter to the EFCC, adding that his lawyer is already filing the petition.
Afegbua, who had recently criticized Secondus, once again retirated his call for a proactive leadership, stating that Secondus has outlived his usefulness.
According to him, Secondus "should give way for more result driven, more forward looking leadership that will help reposition the PDP"
He asked the PDP to sack Secondus and replace him with a capable leader who can deliver polls for the party in the upcoming 2023 general elections.
In his words, "We don't have a position, we don't have an alternative voice that should provide Nigerians the opportunity for them to vent their anger out. And so for me, Uche Secondus has outlived his usefulness. He has tried his best in three and half years years. He should give way for more result driven, more forward looking leadership that will help to reposition the PDP, and make it to be in contentious for power in 2023.
"As things are now, it almost like a routine that PDP is having internal crisis, looking at what they did in Kaduna and what they did in Southwest. All of these put together do not speak well about the opposition party that is actually in contention for power.
"I left the APC in 2018, August 8, to be specific, because I felt the out that APC was not fulfilling the object and subject of the Manifesto of the APC. I was part and parcel of the processes that brought this monstrosity that have become our government process. Joining the PDP, I felt I would see things differently. I felt there will be need for us to engage constructive dialogue, engagements, take on the ruling APC so that they can wake up to their responsibilities of providing good leadership and good governance to the people of Nigerians, but with Prince Uche Secondus as the Chairman, I have not seen the push as an opposition party to actually give Nigerians the alternative platform for them to vent their anger.
"Talking about resources, the PDP as it is now, I tried to run election in 2019, they don't have a workable bank accounts. All the accounts are under ganishing because they cannot clear up their books. I have document with me and I am proceeding from here to petition the NWC to the EFCC. I am not just going to relax, I have requested my lawyer to put up a petition for me and I will go and submit it openly in EFCC, so that people will see where the problem is coming from. I want to see an institution, in preparation for 2023 that will have a leadership that is vibrant, brilliant, that is intellectually savvy, that is able to articulate the issues and provide an alternative platform for Nigerians to express their franchise in 2023."
© 2021, Scud News. All rights reserved.