The Federal Government is set to revive businesses owned by women in Nigeria affected by the coronavirus pandemic, according to the Minister of Women Affairs, Pauline Tallen.
Tallen, who made the disclosure at a virtual E-Launch of the national survey on the impact of COVID-19 on women-owned businesses in Nigeria, said the survey report captured trends and patterns of the losses caused by the pandemic on women owned businesses.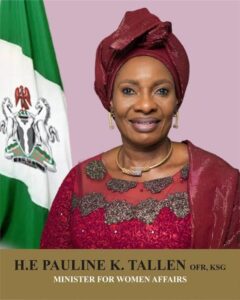 She noted that the report made recommendations in retooling policies to address the immediate and post COVID-19 strategies as well as the way forward, adding that government had commenced the implementation through the ongoing UN Women Assisted Palliative Distribution Project in 17 States of the federation, targeted at poor women who owned businesses in states as a measure to revive them.
"I want to use this medium to assure our women entrepreneurs that we will continue to ensure that we build credible structures to help them revive their businesses. We can only achieve this if we patronise women vendors. We have started implementing this through the ongoing UN Women Assisted Palliative Distribution Project in 17 States of the Federation targeting the poorest of the poor women in the communities".
The minister expressed concern on the effects of the COVID-19 pandemic on businesses, particularly the supply chain, where majority of businesses owned by women are situated. She said the pandemic has left in its trails untold hardships and losses on micro-, small and medium enterprises (MSMEs) as well as no vaccine currently available to combat the virus.
"We are all currently experiencing the effects, which have crippled the supply chain of businesses, with dire consequences on MSMEs, where the majority of women-owned businesses are situated".
Tallen reiterated the importance of addressing gender gaps in designing COVID-19 response and recovery programmes, as well as build strategic partnerships that would protect the well-being of women, assuring that the ministry would scale up some projects for women in National Empowerment Fund (NaWEF), Government Empowerment and Enterprise Programme (GEEP) and the Business Development Fund for Women (BUDFOW).
Other areas are the ECOWAS and Access Bank 50 Million Women Speak Platform Project (50MWSPP), the Trust Fund agreement with the United Nations Industrial Development Organization (UNIDO) to implement the HP-LIFE entrepreneurship and job creation project.
While commending NACCIMA and SME.NG for conducting the survey, Tallen said that the ministry would also engage with the Nigeria for Women Project (NFWP), and conduct a mapping of state-level interventions on COVID-19.
"The Ministry is engaging with States, relevant government institutions, NGOs, business groups, PWDs cooperative societies, elderly cooperative groups and women focused groups to achieve this. I want to encourage our partners to not only stop here, but let us together again look at the possibility of conducting a follow-up survey to track the progress of women entrepreneurs' recovery".
© 2020, Scud News. All rights reserved.