By UDEH DANIELLA
Saturday, June 26, was a day of horror for residents of Fadama and Dutse Kura Fadama villages near Nasko in Magama Local Government Area of Niger State, as a gang of yet-to-be-identified men armed with sophisticated weapons invaded the two neighbouring communities and left behind a trail of anguish and suspense.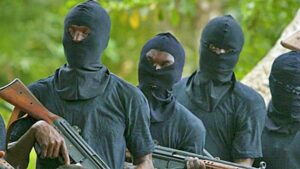 Witnesses said the men numbering 10 swooped on the villages in the dead of the night at about 2.30am on a mission and hit at their targets with precision.
When the smoke cleared, the men had gone with five captives, including a woman, Fati Bauchi, aged 85, who was captured in her home at Dutse Kura Fadama village and whisked away without mercy. Three teenage girls, among them two siblings, Talata Alhaji Samaila, aged 16years and 14-year-old Ladidi Alhaji Samaila, also suffered same fate with the octogenarian.
Scudnews learnt that the gunmen, who executed their mission with professional dexterity, also whisked away another girl, Mary Yunusa, aged 15years, and her father, Yunusa Fadama, to an unknown destination.
Sources said two empty shells, one AK-47 live ammunition, two torch lights and a cap were recovered by the police on arrival at the crime scene.
Forty-eight hours after the incident, residents of the twin communities are yet to recover from the shock, consumed by fear and uncertainty. They are worried over the fate of the victims, more so, as families of the victims are yet to be contacted by the kidnappers.
Wasiu Abiodun, an Assistant Superintendent of Police (ASP) and spokesperson for the Niger State police command did not respond to calls put to his mobile telephone at the time of filing this report, but a senior officer at the command headquarters who requested not to be identified, confirmed the incident.
He said detectives at the State Criminal Investigation Department (SCID) were on the trail of the kidnappers with a view to rescuing the victims unhurt and arresting the perpetrators.
© 2020, Scud News. All rights reserved.