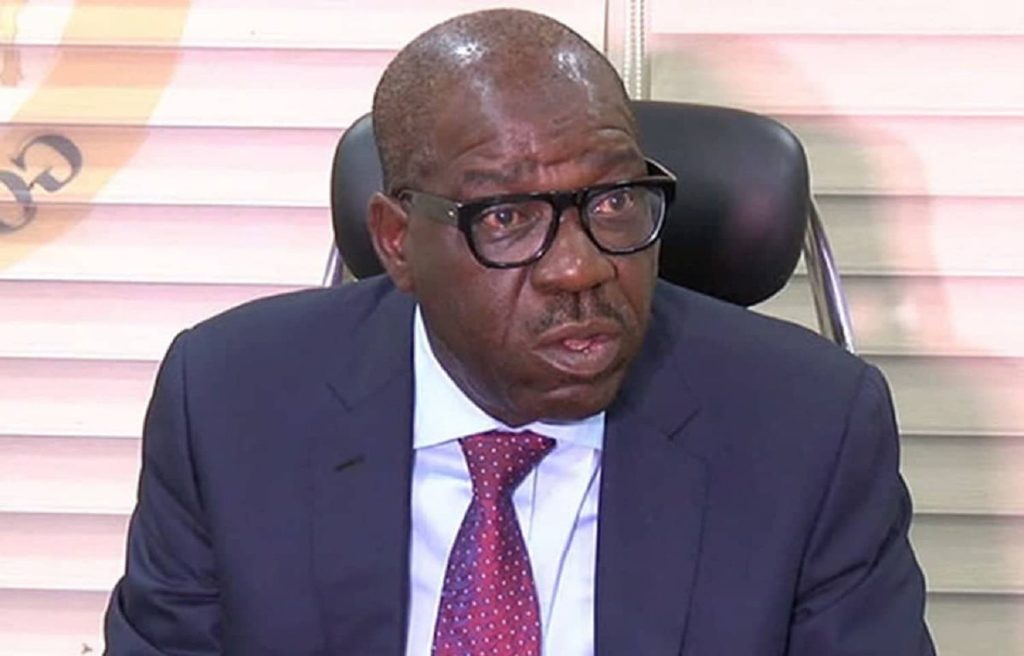 By Tony Ikpasaja
Being a gateway to Southern part of the country has now put Edo state in dire security situation instead of an advantage, all as a result of pitiable governance. Armed bandits and kidnappers have taken over the bushes and forests intermittently leaching assaults on the roads, towns and villages from the endless flanks. They also rape women, maim or kill victims in addition to their routine abductions and demand for ransoms. Edo state used to be destination spot for vacationers. Fear and tension have coiled around the people.
In the past, these highways were spectacle of men in brownish vigilante uniforms waving at kind hearted travelers. They represent hope as they secured the ways. They have been replaced by heartless criminals since 2016, when a certain suit-wearing Godwin Obaseki took over as Governor. This highly elitist governor, unlike Rotimi Akeredolu and Yahaya Bello, his neighbouring colleagues, has a penchant for high-handedness and a livid domineering spirit.
Now that the upsurge in kidnapping has nose-dived, the people are learning to take their destinies in their own hands. Ironically these criminals were driven out of the bushes and forests of his neighboring states into Edo. They are also chief security officers of their states like Obaseki. They are performing well without squealing for the constitutional powers of a President before they can defend their people. What maybe different is in the quantum of security votes and how they creatively utilize same.
From reports, the Governor of Edo state pockets a whopping N650 million naira every month or N7.8 billion every year as security vote. Insecurity in Edo state can be ameliorated with a fraction of that amount if only creativity and selflessness take the better part of governance in Dennis Osadebey house.
Vigilantes in the past were supported through the collaboration of state and local governments authorities. Now communities are resorting to self-help, taxing themselves to fight criminals. There are numerous creative ways a state government can keep citizens safe instead of lamenting over constitutional defects.
Shortly before his unceremonial exit from power, former Governor Oserhiemen Osunbor proposed numerous confidence-strategies including the provision of control room numbers of a well-structured security network, printed on bill boards across the state so that security men can swiftly respond to distress calls at record short notice. That was also a component of community policing.
In Adams Oshiomhole administration, state and local governments collaborated in the funding of vigilantes who dotted the now vulnerable Okpella roads up to Sabongida Ora, Igarra, Esan land, Abudu, Igbanke, Ofosu, etc. That was the last time Edo people had respite from kidnappers.
Prominent persons have provided workable ideas on how to tackle the rising insecurity but for their political inclination, none of such would be taken. No serious minded leader should politicize security because criminal elements know no political parties when they strike.
A governor who only reacts fiercely to sharing of allocation, leaving out mundane matters that concern the ordinary people means well for his pocket only. It's sad that Edo governor would oxidize high fears over printing of naira instead of focusing on increasing internally generated revenue and protection of his state. What if the naira stops coming from the centre tomorrow?
The population growth in Edo is believed to be swinging around 5 million from the 3.5 million of 2006 census. Now, if one may ask, how many police stations and police posts have the monthly security votes constructed for the state in the past 5 years?.
It is instructive to tell our complaining governors that their understanding of governance in this clime is terribly twisted.
Those in the habit of constantly crying that they lack constitutional powers to control Nigeria police have powers to create and control vigilante, except they aspire for the powers of a Commander-In-Chief.
From hindsight of his antecedents, if Governor Obaseki controlled the police, he will tame opposition, demolish more houses, jail Edo people and bulge 'rash' excessive recklessness.
Federal Government controls the Nigeria police of about 371,000 personnel at 1 policeman per 420 souls and 10,000 of them are under the Edo state command. With the ones guarding our VIPs and those domiciled at the various government houses, you will have about 120,000 policemen for the few rich and the remaining 250,000 for the citizens.
Any governor that takes his oath to protect the citizens seriously should be able to provide at least additional 100,000 vigilantes with his security votes. That is the idea of security vote as it is not for personal aggrandizement and intimidation.
It's only a Nigerian governor that will deploy policemen from his government house to protect his girlfriends, cronies and thugs than vulnerable communities.
Nobody is asking Governor Obaseki to part with his security votes to share nor to pay ransoms. Let him deliver safety along the notorious highways, bushes and forests so that citizens can breathe, work and most importantly pay more taxes to oil government mischiefs of nowadays. Very sad indeed.
Women from Uromi and Ikabigbo have recently joined others across Edo state to protest against insecurity. What that means is loud and clear to Obaseki; wake up and face the reality. Stop stalking bile against criticisms. Use the same energy and resources you improvised against 'godfatherism' for insecurity now.
*Dr. Ikpasaja writes from Abuja*
© 2021, Scud News. All rights reserved.