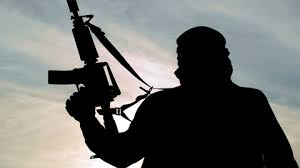 Homicide detectives are battling to unravel the circumstances surrounding the murder of a serving Judge of a Grade 1 Area Court by armed men in Benue State, allegedly led by his son.
The deceased, Amenger John Indyer, aged 59, who was the presiding Judge at the Grade 1 Area Court, Wohyer, Ukum Local Government Area of the state, was allegedly shot dead at his home in Ise Indyer Sankera. His assailants numbering four reportedly broke into his house and shot him dead on Friday, May 29.
Caught in a security web, his son, Amenger Fanem and his accomplice, Aonder Urev, are said to be singing like a canary in police custody. Sources told Scudnews that they have confessed to the police on how the dastardly act was planned and viciously executed.
The police said three expended AK-47 ammunition were recovered from the scene of crime as investigation continued. Spokesperson for Benue State police command, Catherine Anene confirmed the development when contacted.
She said, "The incident happened at Ukum, where the son was said to have led members of his father who was the Judge of an Area Court. Operatives of the SCID are investigating".
© 2020, Scud News. All rights reserved.