A 26 year-old woman, Ms Sophia Amaka, stunned members of her family when she quit her promising job as a secretary to become a shoe maker.
Amaka says she had no passion in a white collar job but mending and producing shoes.
She also said she wanted to be unique and different from what every other woman does.
"Making slippers and repairing already made shoes gives me strength", she told the News Agency of Nigeria (NAN).
"I ventured into this business because I want to be unique and different from what any woman is doing", she explains.
Her aspiration propelled her to quit her job in 2016, venturing into shoe making business which she says, "gives me more time and pays more than anyone can pay me".
However, it was not a smooth-sailing decision for Amaka, a resident of Abuja, as her family members derided her when she intimated them on her plan to venture into shoe making.
"They said I wanted to disgrace the family; they asked if I didn't see another thing to do apart from she making", she recalls.
But her dream was fired by her passion and the encouragement from several persons with whom she had shared her thoughts who urged her to forge ahead with her plan.
"They told me to follow my heart; that no matter the situation, I shouldn't listen to anyone, just follow my heart desire. "My Passion is my strength and I still intend to go for further training so that I can be the best", Amaka said.
She reveals how her ambition gathered momentum. "I saw how shoes were made for the first time at the Redeemed Christian Church of God, Kubwa, Abuja. This was at their annual entrepreneurship conference in 2016.
"I prefer to be a shoemaker because one day, my small shop would turn out to become an empire", she says.
"My biggest achievement so far is my customers' feedback. I make slippers and repair already made shoes for both men and women".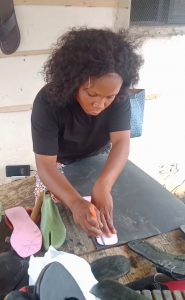 © 2021, Scud News. All rights reserved.